On

October 12, 2023

Tags:
No Comments
10th Anniversary: Bellesguard Experience
By: The Bellesguard Team
We are celebrating our anniversary, a decade since we first opened our doors to the public. We are very excited to celebrate it with you, and we have been preparing an activity that lives up to our milestone.
Special visits, so special, that we have named them the Bellesguard Experience. And why are they special? Because each part of the activity is entirely unique, and the sum of all will truly be a wonder for those who enjoy art and culture.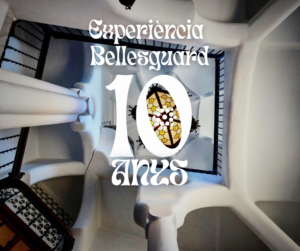 It will begin with a tour led by Anna Mollet, manager and driving force behind the Bellesguard Research Group, certainly one of the individuals most knowledgeable about Bellesguard. Anna created the script, has trained the guides who usually conduct guided tours, but she never does them herself. Traveling back in time and traversing the history of the estate with her is already a privilege in itself.
Following the tour, we will take a breath with a concert by Ensemble Concertanti Barcelona, who will perform a selection of pieces related to the history of Bellesguard. A compilation of songs from the medieval period, from the Montserrat Red Book. Some baroque pieces and some from composers contemporaneous to Gaudí, such as Enric Granados, Manuel de Falla, Isaac Albéniz, or Lluís Millet. All of this with a glass of cava in hand, and best of all, in a room not open to the public and that very few people have seen. An unprecedented room: the second noble floor of Bellesguard. You will marvel at checkered floors and ceilings of spectacular beauty.
And as the cherry on top, a lecture by Galdric Santana, current Gaudí chair, who will unveil one of the most recent discoveries of the Bellesguard Research Group of which he is the director: the evidence of the use of gnomonics in the construction of Bellesguard, in its practical and functional, artistic and ornamental dimension, and especially in the symbolic dimension, with multiple meanings and readings.
Initially, the Bellesguard Experience could be enjoyed over two days, Sunday, October 15th, and Saturday, October 28th. In just two days, all the tickets were sold out, a pleasant surprise for the whole team!
We have received many calls and emails from people who could not purchase tickets but would like to attend, so we have decided to open an additional day: Sunday, November 5th.
We are very excited to celebrate the 10th anniversary with you. Thank you very much to all of you who have purchased your tickets and will be here, enjoying the Bellesguard Experience. And to those who cannot make it, we look forward to seeing you on any other day; at Bellesguard, every day is special! Here's to many more years of walking together!