On

October 27, 2023

Tags:
No Comments
10th Anniversary: 3,650 days of architecture, art, history, music, and culture!
By: The Bellesguard Team
We are and celebrate culture. In these 10 years, we haven't stopped doing things, meeting people, and creating synergies. We enjoy being a meeting point, driving exciting projects, lending a hand to talent and drive, and filling Bellesguard with life.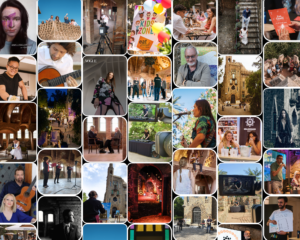 It would be impossible to mention all the people who have passed through Bellesguard without leaving anyone out. Some have come here asking for discretion, and we won't mention them, but we'll try to make a list of some of the visits we treasure in memory.
Singers and Musicians
– Miguel Poveda
– Shakira and Maluma 
– Gerard Quintana
– Ramón Mirabet
All the artists from the Estrenes Bellesguard Festival:
– Olga Kobékina and Sergi Vicente
– Cosmos Quartet
– Bernat Padrosa
– Eduard Iniesta
– Pedro Javier González Trio
– Glaucs
– Biel Ballester Trio
– Clase Sencilla
– Qantic
– Spacer
– Velin
– Sergi Shine.
All the artists from the Flaixbac Showcase
– Ana Mena
– Nil Moliner
– Buhos
– Suu
– Doctor Prats
– Itaca Band
– Catarres
– Lildami
– Stayhomas
– All the artists from the Nits Gaudí:
– Mishima
– Amics de les Arts
– Andrea Motis and Joan Chamorro
– Manu Guix
– Enchiriadis
– Joan Miró
– Ensemble Concertanti Barcelona
– (Re) Sona Bellesguard:
– El Santo
– Carolina Alabau
– Qvinta Essençia
– Bounce Twice
People from the world of sports
– Pau Gasol, former basketball player signed by the NBA
– Gerard Piqué, former defender at Futbol Club Barcelona
– Joan Laporta, director of Futbol Club Barcelona
– Jorge Valdano
Actors and people from the world of cinema
– Sigourney Weaver, famous actress for her role in Alien
– Robert Englund, famous actor for his role in Nightmare on Elm Street
– Bigas Luna, Catalan film director
– Pedro Almodóvar
– Dani de la Orden
Writers and journalists
– Carme Riera, Catalan writer and professor of Spanish literature
– Svetlana Aleksándrovna Aleksiévich, Nobel Prize in Literature 2015
– Jaume Barberà, journalist associated with TV3 and RAC1
– Pepa Bueno, journalist linked to Cadena SER, Telecinco, and Cuatro
Chefs
– Christian Escribà, famous chef for his pastry
– Ada Parellada, well-known Catalan chef
– Marc Ribas
And we don't count suppliers, sponsors, regular customers, people who have had a direct or indirect relationship with us, friends, and Bellesguard team members, nor the nearly 100,000 people who have been part of our daily life during these 10 years.
This land has more than two thousand years of history, and for the past 10 years, we have embarked on a new journey. Shall we continue on this path together?