On

November 16, 2023

Tags:
No Comments
Guess what? A photo with a surprise…
By: Ferran Garcés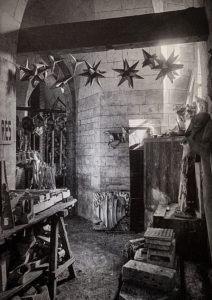 Bellesguard is one of Gaudí's most unknown works, both for the building itself and for the history of the place. So unknown that even we continue to discover things. Sometimes, unexpectedly. Today we will show an example. In 2020, "Temple, the magazine of the Sagrada Familia," published an article about the construction of the pinnacle of the Virgin's tower, in the form of a twelve-pointed star (1).
To illustrate the article, the editors published a photograph from Gaudí's studio. Hanging from the ceiling, a series of stars, including the mentioned star, can be seen. However, for us, the surprise was different. Below the stars, standing on the ground, in the same photograph, one could clearly recognize one of the most iconic elements of Torre Bellesguard. We refer to the shield that welcomes the visitor in the garden's battlement.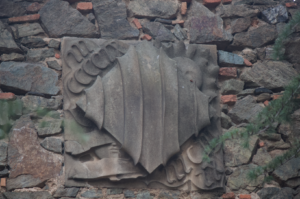 What does it mean?
In the center of the shield, we see the four bars of the Crown of Aragon and the Catalan flag. We also read two dates. In the upper left, we can read in Roman numerals 1409 (MCDIX), the year of the wedding of Martí I the Humane with his second wife, Margarida de Prades, at the old Bellesguard palace. In the lower right, the number is 1909 (MCMIX), the date when Gaudí finished his work at Bellesguard, started nine years earlier. However, according to Gaudí's recent exhibition at the National Art Museum of Catalonia, the photo in Gaudí's studio dates from 1917, meaning it was added to Torre Bellesguard after this last date (2).
We also find two symbols. In the upper right, a sun, representing the cultural splendor of Catalonia, both in the time of Martí I the Humane and in Gaudí's time. In contrast, in the lower left, there is a face with covered eyes, a symbol of darkness, which could represent the opposite of the previous symbol, i.e., the decline of Catalonia after the death of the monarch without descendants and the rise of a new dynasty to power (3). According to other authors, these two symbols would also allude to the property's name: "Bell Esguard" (beautiful view), a name with which Martí I the Humane and his chancellor Bernat Metge baptized the original castle. The sun would represent the pleasure of the sense of sight, and the face with covered eyes, its deprivation.
Notes
Faulí, Jordi (December 2020), "Un estel per a la Mare de Déu," Temple, the magazine of the Sagrada Familia, year 154, p. 22-25.

Lahuerta, J. J., (2021), Gaudí, National Art Museum of Catalonia, Barcelona, p. 281. The photograph is by an anonymous author and is kept in the Institute Amatller of Hispanic Art's photo library.

Gaudí plays again with the contrast of light and darkness in the rest of the garden, through the symbol of the rising and setting sun: Garcés, Ferran (2019), "Els Sols de Bellesguard," Torre Bellesguard blog: link